Provider Events
Events
Clinical education for our referring partners is a core value at Colorado Retina Associates. We provide continuing education opportunities in partnership with Association of Regulatory Boards of Optometry (ARBO), Colorado Optometric Association (COA), Medical Education Resources (MER), Denver Medical Society (DMS), and the Joint Commission on Allied Health Personnel in Ophthalmology (JCAHPO). CE credit can be acquired via independent and sponsored lectures, or one-on-one opportunities shadowing our physicians in clinic.
If you are interested in retina-focused CE see below for upcoming events, or book a private CE, CME, or JCAHPO activity for your team. Fill out the form inquire.
Upcoming Events
DMOS Happy Hour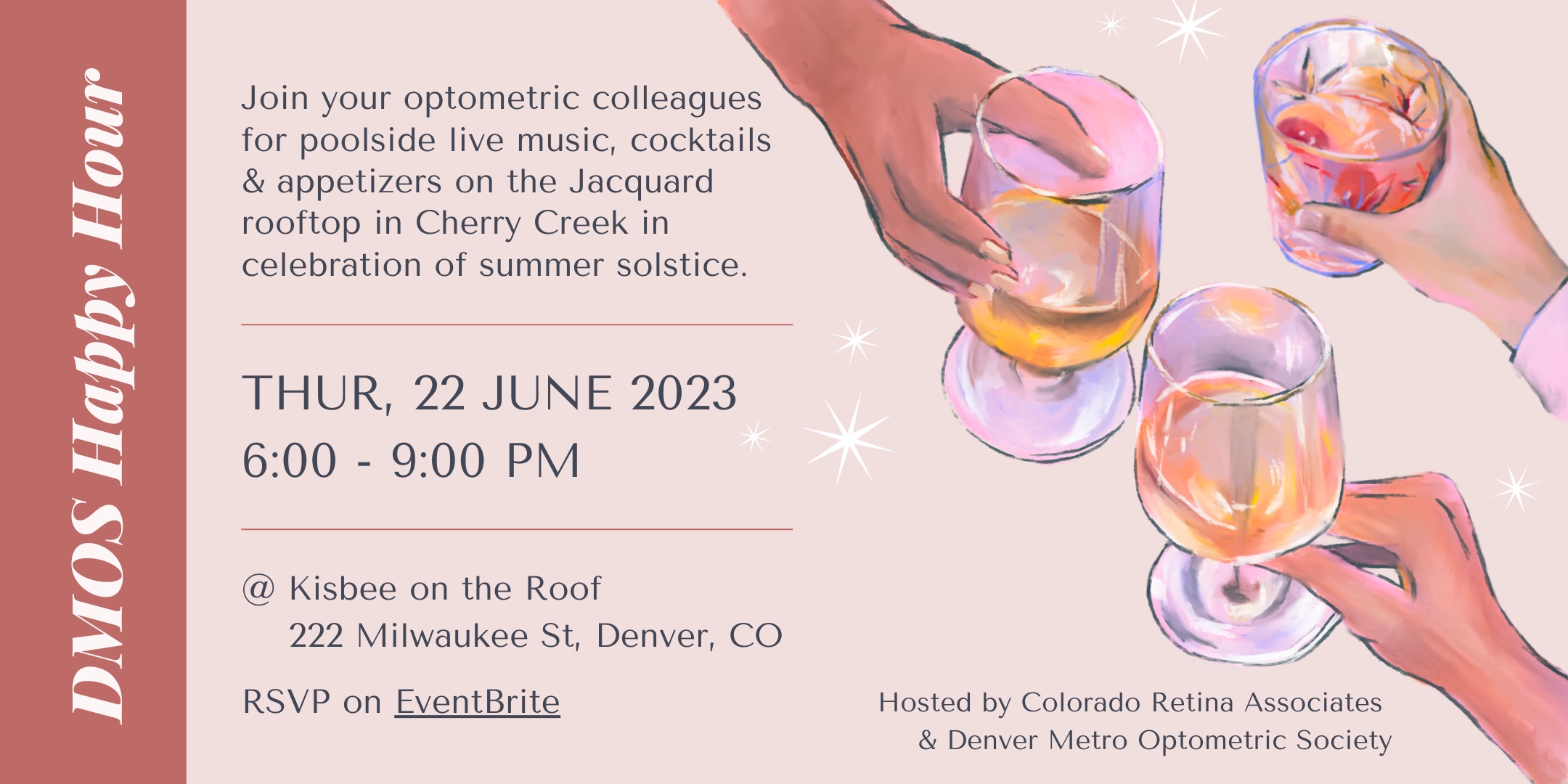 Join your DMOS colleagues for poolside networking happy hour, featuring live music, cocktails and appetizers on the beautiful Jacquard rooftop in Cherry Creek in celebration of summer solstice.
Date: Thursday, June 22, 2023
Time: 6:00-9:00 pm
Venue: Kisbee on the Roof - 222 Milwaukee St, Denver, CO 80206
Who: Active members of the Denver Metro Optometric Society
Vision Source Topgolf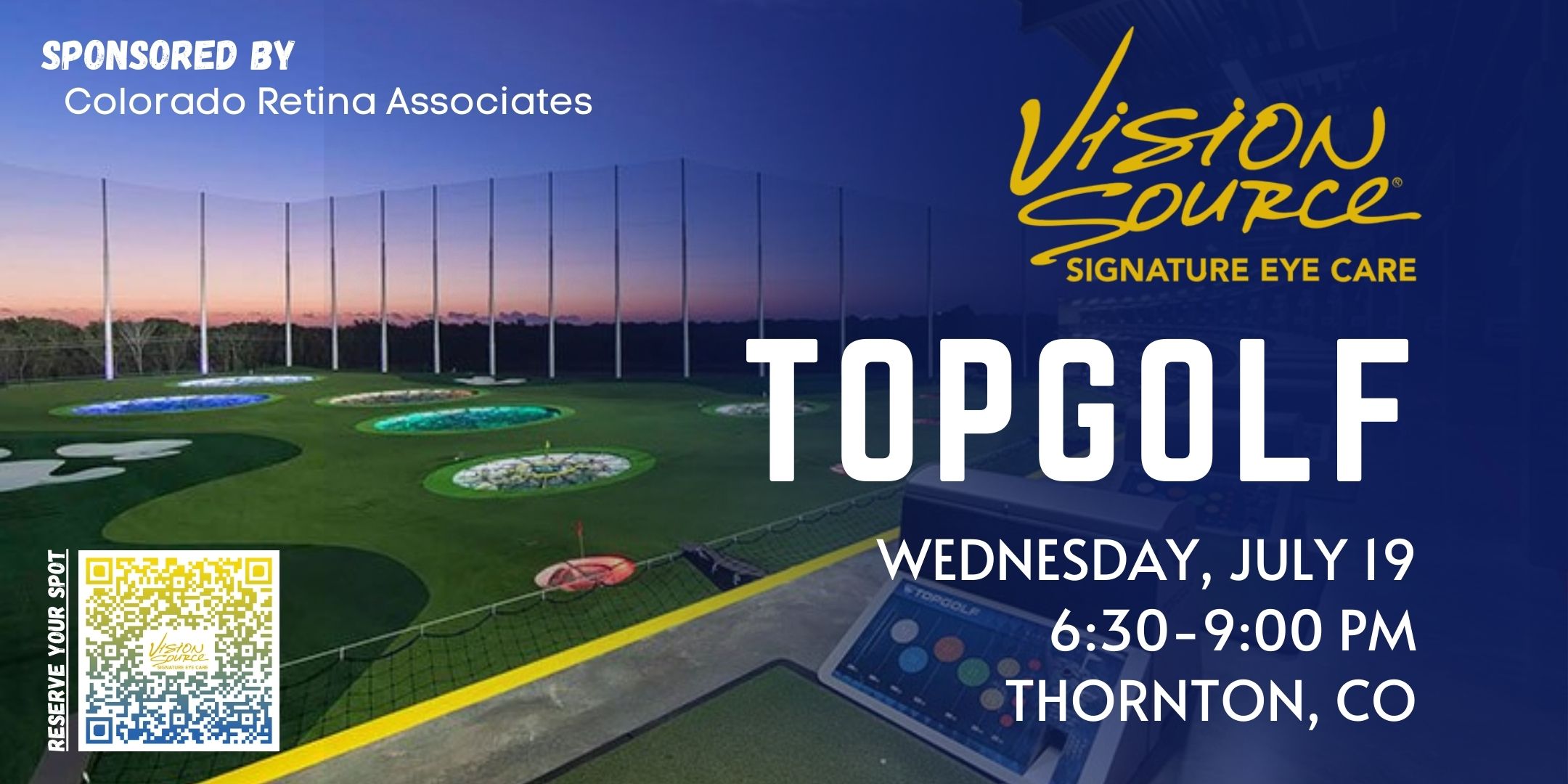 Whether you're getting hole-in-nones or hole-in-ones, join the Vision Source optometric team at Topgolf in Thornton, CO for an evening of networking, golf games, food, beverages and fun.
Date: Wednesday, July 19, 2023
Time: 6:30-9:00 pm
Venue: Topgolf – 16011 Grant St, Thornton, CO 80023
Who:: Vision Source affiliated O.D.'s and anyone interested in learning more about membership.
COA Golf Tournament- Play with CRA
Each year Colorado Retina sponsors a pair of foursomes to face off in the COA Golf Tournament. Which means we have 6 comped spots available, 3 on Dr. Murtaza "Moo" Adam's team and 3 on Dr. Miriah Teeter's team.
Date: Monday, September 11, 2023
Time: 7:00 am registration - 8:00 am shotgun
Venue: Coal Creek Golf Course - 585 W Dillon Rd, Louisville, CO 80027
Who:: All levels of golfers, as well as non-COA members are welcome. Must be a practicing Colorado optometrist to join.
Follow us on EventBrite
Be the first one to find out about CRA sponsored events, CE activites, volunteer opportunities and more!
Signature Event
Mile High Masters of Retina (MHMR)
Date: Sunday, February 25, 2024
Time: 8:00-11:00am MT
CE Credit: 3 hours of AMA PRA Category 1 Credit™ and 3 hours of COPE credit, provided by ARBO.
Venue: Virtual - Zoom
Registration: Check back, coming soon!
Mile High Masters of Retina is an accredited, annual retina-based, educational meeting geared towards primary eye care providers. The program includes a variety of rapid-fire retina presentations, the patient perspective, and excitingly, controversial panel discussions hosted by the CRA specialists. Live sessions cover a variety of vision-threatening retina, ocular oncology and uveitis conditions, presenting both common and complex cases. Mile High Masters of Retina provides attendees the opportunity to enhance ones knowledge of modern and innovative diagnostic and treatment approaches in retinal surgery and care as well as clinical research advancements within the field.