Curtis L. Hagedorn, MD
Meet Dr. Hagedorn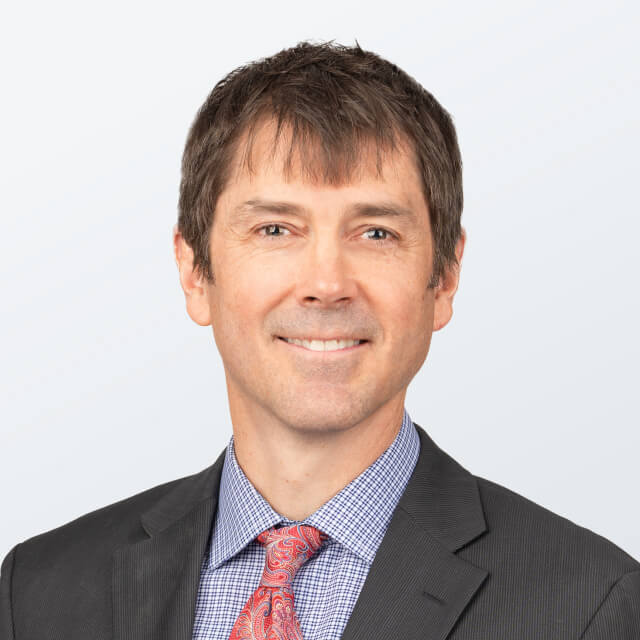 Dr. Curtis Hagedorn is a native Coloradan, born in Loveland Colorado. He grew up in Colorado Springs and attended Colorado College for his undergraduate education. He then left the state for ten years as he attained his medical school degree from Rush University in Chicago and received eye surgery training and retinal surgery expertise at Yale University where he received the Marvin Sears award for clinical excellence.
In 2005, Dr. Hagedorn returned to Colorado and began his vitreoretinal surgery career in Denver. Dr. Hagedorn joined Colorado Retina Associates in 2008. Dr. Hagedorn has special interest and expertise in macular degeneration and has been involved in many pivotal research trials on this condition.
Dr. Hagedorn has also served as president of the Denver Medical Society and currently serves as a board member of the Colorado Medical Society.
Dr. Hagedorn lives in Denver with his wife (whom he met at Colorado College) and his 3 children. When not stomping out blindness, Dr. Hagedorn enjoys spending time with his family hiking, camping, skiing, and making music.
Undergraduate

Colorado College, Colorado Spring, CO 1994

Medical School

Rush Medical College, IL 1999 - Alpha Omega Alpha Medical Honors Society

Internship

Resurrection Medical center, Chicago, IL 1999-2000

Ophthalmology Residency

Yale University, New Haven, CT 2000-2003

Vitreoretinal Fellowship

Yale University, New Haven, CT 2003-2005

American Board of Ophthalmology 2004

Assistant Clinical Professor of Ophthalmology, University of Colorado, Denver, CO.

American Academy of Ophthalmology
American Society of Retinal Specialists
American Medical Association
Colorado Medical Society Delegate
Colorado Medical Society Board of Directors 2014- Present
Denver Medical Society President 2012-2013
Denver Medical Society Chairman 2013-2014
Colorado Society of Eye Physicians and Surgeons
Chairman of Ophthalmology, Saint Joseph Hospital, Denver CO 2006-2012
Medical Advisory Committee, Red Rocks Surgical Center
International Society for Stem Cell Research
American Eye Study Club
Denver Medical Society Foundation Board of Directors 2015 - present
Preceptor, Foundations of Doctoring, University of Colorado School of Medicine 2010-present
Getting to Know Dr. Hagedorn
Reviews for Dr. Hagedorn
"I'm getting old... ended up with a retinal detachment... not once.. but twice. I feel that Colorado retina associates have the best docs around! Everyone from beginning to end is so kind. Reception, imagery, intake and of course my doc- Dr. Hagedorn. He's only here at this location maybe once a month. I try and get my appointments here as often as I can! If you need to "see" one of these Docs- this location is on point!!"

—

Mireille
"I highly recommend Colorado Retina. I visited with concerns about floaters and flashers and they were able to get me in for a last minute appointment. The front office is well run and efficient. The office is clean and well laid out. The entire staff was friendly and very knowledgeable, especially Dr. Hagedorn. They were patient, thorough and answered all of my questions."

—

Kate
"Staff & MAs were helpful and courteous. My visit was pretty quick and routine, but Dr. Hagedorn is always thorough, and he takes the time to explain where necessary. I've never had a bad experience at CRA, thanks team."

—

Sarah
Read More