Research
About Our Research Program
Our FDA-backed, clinical research program is a vital part of improving our patients' well-being. We have participated in hundreds of innovative trials surrounding a variety of retinal diseases. Substantial strides have and continue to be made in stem cell research, gene therapy, nanotechnology, Anti-VEGF medicine, therapeutics, immunology, noninvasive imaging, and more, because of our participation. Our commitment to research allows our patients early access to life-changing, novel treatment options. For many, trials provide hope for a healthier future. With each trial, we advance our understanding of eye disease so we can one day soon eradicate blindness.
Potential Benefits
Clinical trials can benefit both new and existing Colorado Retina patients. For our shared patients who are eligible to participate in a study, new treatment options in a controlled environment can challenge the status quo. Enhanced access to novel diagnostic techniques, technology, and equipment are provided at no additional cost to an enrolled patient. In addition, each patient benefits from comprehensive care, additional attention, and consistent monitoring to prevent, delay, or decrease symptoms and severity of the disease. Clinical trials are an opportunity to provide hope to those patients who either have not responded to market treatment, or have reduced access to treatment due to prognosis or financial burden.
For Doctors: Refer a Patient to Research
We encourage study referrals from our partnering providers who share in our mission to elevate the standard of eyecare. To participate in a trial, your patient must also be a patient of Colorado Retina, and first complete a new patient retinal evaluation to confirm diagnosis and assess eligibility. To refer a patient to a trial, please note interest in research on the referral form, we will take it from there.
Eligibility and Enrollment
To participate in a clinical trial, you must be a patient of our practice. During your retinal examination, your Colorado Retina physician will determine eligibility. If eligible, your doctor will provide you essential information so you can make an informed decision for next steps in your care.
Safety and Efficacy
Our physicians only refer a patient to research when it is safe and medically appropriate. Every clinical trial is held to impeccable safety standards and must be approved and monitored by an Institutional Review Board (IRB), Data and Safety Monitoring Board (DSMB) and report to the Food and Drug Administration (FDA) to make sure potential benefits greatly outweigh any risk. Only a small fraction drugs developed in laboratories ever make it to the clinical trial stage. If the drug does make it to the trial phase, it has undergone rigorous, documented pre-clinical laboratory studies and/or animal testing. If at any time the side effects go beyond normally expected limits, or if the risks outweigh the benefits of the experimental treatment, the study will be halted or modified.
FAQs
Phase I - generally involves a small number of patients and its primary goal is to determine if the treatment is safe for use in humans.
Phase II – larger than a phase I and used to determine the efficacy of the treatment, looking at whether the treatment provided benefitted most participants. If an acceptable percentage of the patients respond well to the drug, it will go to a phase III trial.
Phase III – this is largest and usually the longest stage of the process. In stage 3, the drug or intervention is compared to the current standard of care for that disease state to determine if it works better. Several hundred patients are involved from many different regions or countries and are monitored for their response to the drug as well as any potential side effects.
Phase IV: conducted after the trial drug has already hit the market. This phase is gathering additional information on the long-term effects of a much broader patient population.

It's a common misconception that all clinical trials involve a placebo, a substance or pill that has no active ingredient or therapeutic effect on the participant. However, only a small fraction of clinical trials uses placebos, typically only found in phase III studies. If a placebo is present, the placebo group always receives the current standard of care. Only very rarely are there cases in which there is a "no treatment" placebo group in a clinical trial. If a placebo an option in the trial, you are considering you will be made aware of this in advance so that you can make an educated decision on proceeding.

Each clinical trial has a very specific eligibility criteria, which consists of inclusion and exclusion standards. Criteria guidelines may relate to the participants age, gender, visual acuity, stage of disease, treatment, or medical history. Your physician will assess potential eligibility prior to referring you to a specific trial. Criteria is a crucial aspect of a trial to make certain the participant reaps all potential benefits while avoiding any safety concern.

Certainly, it is always your choice to withdraw from a trial.
Location
Our research is performed within our Lakewood Clinic.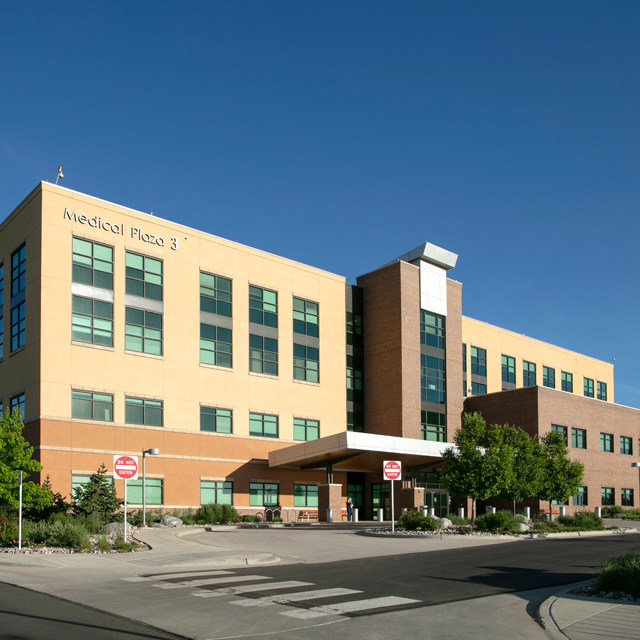 St. Anthony Medical Plaza 3
255 S. Routt St.
Suite 200
Lakewood, CO 80228