Ashleigh L. Levison, MD
Meet Dr. Levison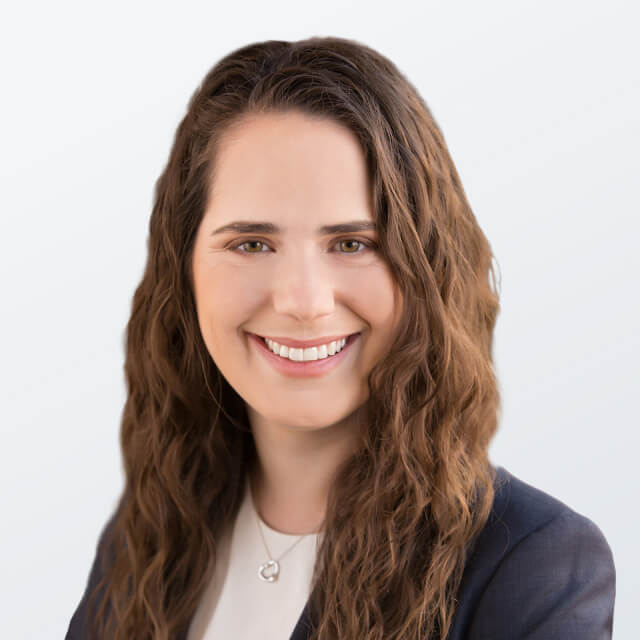 Coming to us from Scottsdale, AZ, Dr. Ashleigh Levison specializes in medical and surgical retina treatment, with special interest in uveitis. She primarily cares for patients with macular degeneration, diabetic eye disease, vascular occlusions, macular disorders, epiretinal membranes, vitreomacular traction and inflammatory eye disease, also known as uveitis.
Dr. Levison joined the CRA team in 2018. She selected Colorado Retina as her home, because our primary focus aligned with her own, to provide her patients with the utmost care by saving and protecting their valued sense of sight. Growing up with both parents who were also physicians, Levison says, "since childhood, I have always seen myself helping people through medicine."
Before settling in Denver, Dr. Levison moved around the states, exploring major cities including Miami, San Francisco, Boston and Cleveland to train in top-ranked ophthalmology programs. She graduated summa cum laude from Boston College, and was inducted into two national honor societies during her schooling. Dr. Levison completed her ophthalmology residency at UCSF, then moved on to master both a vitreoretinal surgery and uveitis fellowship at the Cole Eye Institute at the Cleveland Clinic.
Dr. Levison prides herself in being an active community and academia steward. She has served on numerous medical boards, published cutting-edge research, and is often found traveling as a keynote lecturer at renowned scientific meetings. Dr. Levison's passion is in continued education, where she enjoys sharing her advanced knowledge of specialty retina treatment and care with her ophthalmology colleagues.
Her goal, outside curing blindness, is to travel the world and see as many national parks as she possibly can with her pilot husband and young busy daughter.
Undergraduate

Bachelor of Science, Summa Cum Laude, Boston College, Chestnut Hill, MA. 2005

Medical School

Doctorate of Medicine, University of Miami, Miller School of Medicine, Miami, FL. 2009

Internship

St. Joseph's Hospital and Medical Center, Phoenix, AZ. 2009-2010

Ophthalmology Residency

University of California, San Francisco, San Francisco, CA.

Vitreoretinal Fellowships

Vitreoretinal Fellowship, Cole Eye Institute at the Cleveland Clinic Foundation Cleveland, OH, 2013-2015
Uveitis Fellowship, Cole Eye Institute at the Cleveland Clinic Foundation Cleveland, OH. 2015

American Board of Ophthalmology, 2015-present

The Association for Research in Vision and Ophthalmology, 2008-Present
American Academy of Ophthalmology, 2010-Present
American Society of Retina Specialists, 2013-Present
Arizona Ophthalmologic Society, 2016-2018
Phoenix Ophthalmologic Society, 2016-2018
Co-Chair of American Society of Retina Specialist - Fellows in Training Section, 2015 - 2017
O.N.E. - Uveitis - Member Subcommittee for American Academy of Ophthalmology, 2018 - Present

USC Roski Eye Institute Los Angeles, CA, Keck School of Medicine, University of Southern California, Adjunct Clinical Assistant Professor, 2016-2018
Banner University Medical Center Phoenix, AZ Faculty Physician, Ophthalmology, 2016 - 2018
Student Sight Savers Program Community Service Travel Award, 2008
Cleveland Clinic Caregiver Celebrations Appreciation Award, 2014
Reviews for Dr. Levison
"Dr Levison is meticulous in her care. Her extraordinary talent as a surgeon saved my vision! Highly recommended! Grateful beyond words."

—

J.B.
"This is my 2nd visit to this office, and what can I say? I'm impressed! The office is run so well, so organized, so clean. All the office staff are very friendly, kind, and knowledgeable. And as for Dr. Levinson, I just love her. The thought of having injections in my eye, well, makes me cringe. Dr. Levinson was so good, I didn't even feel the injections. Who knew that was possible?!? We're in the process of saving the vision in my right eye, I'm beyond grateful. What an amazing team"

—

Anonymous
"I highly recommend Colorado Retina and Dr. Ashleigh Levison. I had an appointment with Dr. Levison today (May 4, 2022). I found the staff were all very pleasant and efficient. Every staff member clearly explained the next step in my appointment (e.g. intake, scans and photos, Doctor exam). Dr. Levison had a very nice demeanor and clearly explained her findings and recommendations. I did not have to wait long between the various steps and was completely done less than one hour after walking in."

—

Andre
Read More