Salil Shukla, MD
Meet Dr. Shukla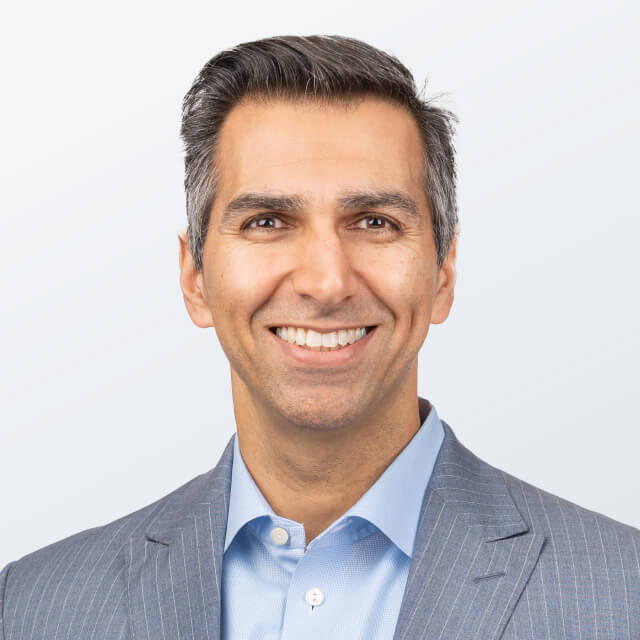 Hello! If you are reading this it is likely because you have been referred for evaluation of a possible problem with your retina. For many patients visiting a retina specialist their foremost concern is, "Will I lose vision?" For some patients that have already lost sight, the desperate question is, "Can I recover my vision?" Patients are understandably frightened when their vision is threatened. I appreciate the emotional weight of sight-threatening disease. My philosophy of care prioritizes establishing trust through patient education and a cooperative approach to decision-making. As much as it is essential to understand disease process and current evidence-based medical practices, bedside manner matters, especially when patients are frightened. It is important to me that patients feel comfortable with and confident in their treatment plan. A patient posted an unprovoked online review which captures the patient experience I strive to create:
Dr. Shukla exhibits great concern for his patients and endeavors to ensure that the patient is fully informed and comfortable with every step of a procedure. He exhibits the ultimate in knowledge and skill in his area of practice. Personally, I have every confidence in him and would heartily recommend him to anyone in need of the services of his specialty.
My wife and I arrived in Denver in 2010 and are delighted to call Denver home. I practiced vitreoretinal surgery for 12 years before joining Colorado Retina Associates in 2019. Originally from New York, I attended college at Emory University where I obtained a Bachelor of Arts in English and subsequently attended medical school and residency at New York Medical College. I completed my vitreoretinal fellowship at the Vitreoretinal Foundation in Memphis, TN, a high-volume surgical program that laid the foundation of my surgical career. I have published articles in peer-reviewed ophthalmic and neuroscience journals, and presented original research at ophthalmic society meetings. As a member of the American Society of Retinal Specialists and the American Academy of Ophthalmology, with board certification from the American Board of Ophthalmology, I actively pursue continuing education to ensure I am current with emerging practices and techniques. My vitreoretinal interests include surgical and medical management of vitreomacular interface disorders, retinal detachment surgery, age-related macular degeneration management and retinal vascular disease.
Outside of work I am an avid amateur motorsports enthusiast and am pursuing my childhood dream of being a race car driver. I enjoy competing in local and national autocross events with the Sports Car Club of America (SCCA) and road racing events with the North America Sportscar Association (NASA). I love the competition and feeling of pushing a car to its limits. Having earned a competition racing license, I've competed in 7, 9, and 24-hour endurance races. When not at the racetrack I enjoy travel, spending time with friends, trying new restaurants with my wife, or just relaxing at home with our vizsla and yellow lab.
If you have been referred to Colorado Retina Associates, rest assured you will be seen by an excellent physician! If you choose to see me, as a patient anticipate a doctor that will strive to make you comfortable, navigating your diagnosis and treatment.
Kind Regards,
Salil Shukla, MD
Medical School

New York Medical College; Valhalla, NY, Doctor of Medicine, 2004

Internship

Yale University School of Medicine; New Haven, CT, Internal Medicine, 2005

Ophthalmology Residency

New York Medical College; Valhalla, NY, Ophthalmology, 2008
Chief Resident: 2007 – 2008

Vitreoretinal Fellowships

Vitreoretinal Foundation (VRF) Eye Specialty Group; Memphis, TN, 2010

American Board of Ophthalmology, Colorado
Diplomate, National Board of Medical Examiners

American Society of Retinal Specialists
American Academy of Ophthalmology

Gentile RC, Shukla S, Shah M, Ritterband DC, Engelbert M, Davis A, Hu DN. "Microbiological Spectrum and Antibiotic Sensitivity in Endophthalmitis: a 25-­Year Review." Ophthalmology. 2014 Aug; 121(8):1634-42.

Salil Shukla, Amir Cohen, Robert Josephberg. "Nonfamilial Vitreous Amyloidosis Diagnosed by Portable Sutureless Vitrectomy." Retina: Retinal Cases and Brief Reports. Fall 2008, 2(4): 264­265.

Eric Mann, Gerald Zaidman, Salil Shukla. "Efficacy of Nonsimultaneous Bilateral LASIK After Nonsimultaneous Bilateral Penetrating Keratoplasty" Cornea. 2006 October;; 25(9): 1053-1056.

Salil Shukla, Paul Han, Prem Subramanian, Paul N. Hoffman. "Cyclic AMP Elevates Tubulin Expression Without Increasing Intrinsic Axon Growth Capacity." Experimental Neurology. 2004 October; 189(2):293-302.

Prem Subramanian, Nitzah Goldenberg-­Cohen, Salil Shukla, and Neil R. Miller. "Plasma Ghrelin Levels Are Normal in Obese Patients With Idiopathic Intracranial Hypertension (Pseudotumor Cerebri)." American Journal of Ophthalmology. 2004 July; 138(1):109­13.
Getting to Know Dr. Shukla
Reviews for Dr. Shukla
"Colorado Retina provides state of the art, excellence in ophthalmology care! On Christmas Eve 2020 my husband, David, was diagnosed with three tears in his retina and was immediately treated on Christmas morning at 10:00 a.m. by Dr Shukla and Sarah his medical assistant. Then three weeks later during a follow-up appointment, post-operatively, Dr Shukla diagnosed a new inferior fourth tear. Dr Shukla is a consummate professional. Sarah worked diligently to get us ready for further laser surgery, she is patient and kind. Sarah provided help with us navigating our insurance pre-authorization and working us into their busy daily schedule in between other patients appointments, so Dave could be treated immediately during this visit. I'm a registered nurse and I'm so impressed with Colorado Retina, we highly recommend them for your ophthalmology needs. They deserve this five star review!"

—

Anonymous
"Dr. Shukla and the staff at CRA were terrific! Check in was easy and efficient - even with Covid issues to deal with. The nurses and PAs were helpful and knowledgeable and made a real extra effort to help my husband with a procedure he needed. Dr. Shukla answered our questions and has a friendly but also professional manner dealing with patients. We highly recommend CRA and Dr. Shukla​"

—

Anonymous