Mimi Liu, MD
Meet Dr. Liu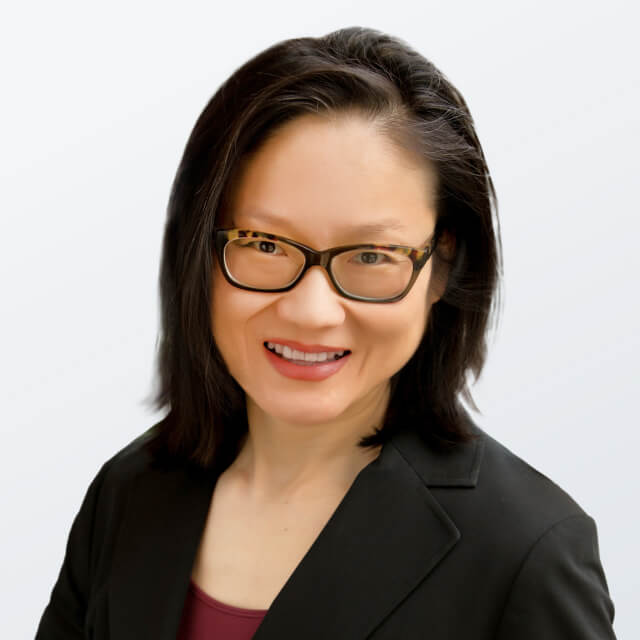 Dr. Liu is a highly trained vitreoretinal surgeon, who treats a vast majority of retinal conditions. Her areas of expertise lie in repairing retinal detachments and tears, macular puckers, and macular holes. She also takes special interest in treating patients with diabetic retinopathy, retinal vascular disease and macular degeneration.
Dr. Liu attended one of the top medical schools in the nation, Baylor College of Medicine, where she received her Doctorate of Medicine. After graduating medical school, Dr. Liu moved back to New Haven, CT where she completed her undergraduate at Yale to return for her internship at the Hospital of Saint Raphael. Dr. Liu then went on to complete her ophthalmology residency and extensive vitreoretinal fellowship program at Willis Eye Hospital in Philadelphia, PA.
Dr. Liu has been played an essential role in the development and furtherment of our in-house clinical research program. She stays at the forefront of research through her participation in close to a hundred clinical trials, with the goal of bettering treatment methods for each of her patients. Dr. Liu is also highly involved in the medical field through her work in publishing numerous ophthalmology related articles, book chapters and papers, and is a recognized professional speaker for her presentations at national events.
On her off days, Dr. Liu enjoys spending time with her family and being a humble student of science, history and philosophy. She is a recovering long-distance cycling and adventure travel addict, with a recent shift in focus to exploring organic farming, wood working, Bollywood dancing, and yoga. Dr. Liu is an avid reader and always enjoys discovering new books and writers, Dr. Liu would like the opportunity to shovel snow at Lambeau field, attend an Oxford Union debate, and be in a flash mob.
Medical School

Yale University, New Haven, CT., B.S. Biology with Honors, 1995

Internship

Hospital of Saint Raphael, New Haven, CT., Transitional Medicine, 2000

Ophthalmology Residency

Wills Eye Hospital, Philadelphia, PA., Ophthalmology, 2003

Vitreoretinal Fellowship

Wills Eye Hospital, Philadelphia, PA., Retina Service, Vitreoretinal Surgery, 2005

Diplomate, American Board of Ophthalmology

American Academy of Ophthalmology
Colorado Medical Society
American Society of Retina Specialists
Colorado Society of Eye Physicians and Surgeons
Association for Research in Vision and Ophthalmology
Reviews for Dr. Liu
"We have nothing but praise for this practice. Dr. Liu is our go-to specialist for retinal care. The support staff are pleasant, efficient, and helpful."

—

Paula
"My best evidence for Colorado Retina quality care is that I have been driving to appointments for the past 9 years from Montrose, Colorado, which entails a 10 hour plus drive round-trip. I would not make that trip if the expertise, professionalism and compassionate care were not superb at Colorado Retina Associates. This practice invests in the latest technology and uses current best practices along with good old common sense, to ensure the most proactive, accurate diagnoses and best treatment options. It is obvious the entire staff makes patients the priority. Thank you Dr. Liu and staff. You are all so worth the drive!"

—

Susan
"Love Colorado Retina Associates. Dr. Mimi Liu (for wife and I) is the best. I say this because she has that rare but highly desired and elusive combination of skill, experience, education, attitude, "bedside manner," positivity, friendliness, and more. Every single interaction has been exceptional. Not good. Not great. Exceptional."

—

Ed
Read More