Murtaza Adam, MD
Meet Dr. Adam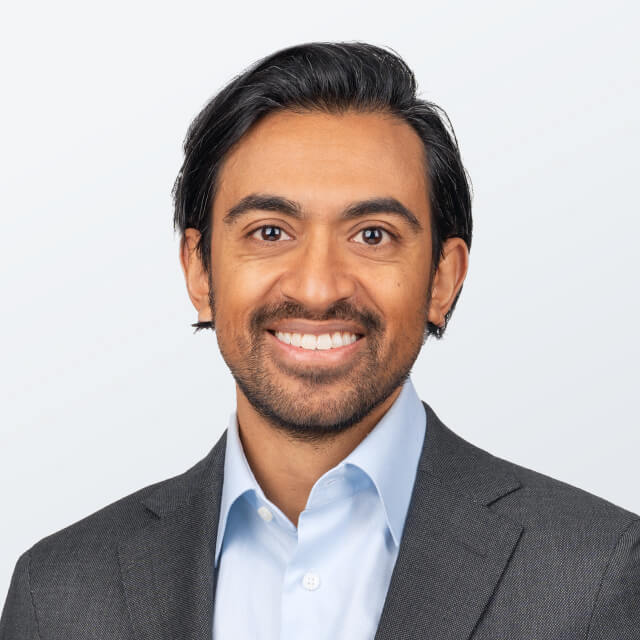 A Wisconsin native, Dr. Adam joined the team in 2017. Colorado Retina provided the opportunity for Dr. Adam to collaborate with top retina physicians and surgeons to treat complex cases and contribute to advancements in clinical research. He applies his training and extensive experience to make a direct and meaningful impact on the lives of his patients.
Dr. Adam chose to become a physician to develop meaningful, long-term relationships with patients, and tackle the analytical and technical challenges that come with being a surgeon. "I find so much gratification helping patients see their grandchildren more clearly, get back to driving, and return to work to support themselves and their family," says Adam.
Aside from treating common medical and surgical vitreoretinal conditions, Dr. Adam has a special interest in seeing patients with complications related to cataract surgery, dislocated intraocular lenses, and trauma that requires complex anterior and posterior segment reconstruction. He completed both his ophthalmology residency and vitreoretinal surgery fellowship at Wills Eye Hospital in Philadelphia, considered to be the top training program in the country.
Dr. Adam has a passion for evidence-based medicine and innovation. He was awarded a prestigious Heed Fellowship research grant in 2015, was accepted to the Fostering Innovative Retina Stars of Tomorrow (FIRST) program in 2018, was inducted into the Retina Society in 2022, and was deemed "One to Watch" by Retina Today in 2023. He continues to advance the field through research with over 40 peer-reviewed scientific publications and 100 plus meeting abstracts. He serves as a reviewer for numerous scientific journals including Ophthalmology and Retina and his primary research interests involve scleral fixation of intraocular lenses, tele-ophthalmology, novel retinal imaging, oral sedation for vitreoretinal surgery, and ocular infectious disease. His expertise and passion has allowed him to travel nationally and internationally to lecture, teach, and consult with fellow eye care providers and industry leaders.
Dr. Adam is highly involved in outreach and service, both locally and abroad. He currently resides as a volunteer physician for Colorado Coalition for the Homeless and was the 2017 VisionWalk Medical Chair for the Denver Chapter of the Foundation for Fighting Blindness. He has also participated in surgical cataract missions in India and Ghana. Dr. Adam also provides telemedicine retinal consultations for the Global Eye Project based in Haiti.
Outside the clinic and the operating room, Dr. Adam enjoys spending time with his wife and two children. You may catch him longboarding or biking with his kids in and around City Park. Embracing all that is Colorado, Dr. Adam takes to the mountains, snowboarding, climbing, and mountain biking. He also enjoys photography, camping, and (poorly) playing the guitar.
Undergraduate:

Bachelor of Biomedical Engineering, 2007 – University of Minnesota – Twin Cities
Bachelor of Arts in Physiology, 2007 – University of Minnesota -Twin Cities

Medical School:

Medical College of Wisconsin, 2011
Alpha Omega Alpha Honor Society, 2010

Internship

Transitional Year Program, Aurora St. Luke's Medical Center, 2011 – 2012

Opthalmology Residency

Wills Eye Hospital, 2012 - 2015
Co-Chief Resident, 2014 – 2015

Vitreoretinal Fellowship

Wills Eye Hospital/Mid Atlantic Retina, 2015 - 2017
William Tasman, MD Outstanding Fellow Award, 2017

American Board of Ophthalmology, October 2017

American Society of Retina Specialists
American Academy of Ophthalmology
Association for Research and Vision in Ophthalmology
Colorado Society of Eye Physicians and Surgeons
Colorado Medical Society
Getting to Know Dr. Adam
Reviews for Dr. Adam
"Dr. Adam prepared carefully for his appt. with me and brought those facts into our discussion as well as including the tests and images that were taken minutes before he did his own personal exam. My eye issues are complex and long…& he took time to address all of that history as he explained my current status and how we could move forward. I feel certain that I am in great hands with Dr. Adam."

—

Marilyn
"Colorado Retina has truly been a vision saver for me. They are fortunate to have Dr. Adam and I am so grateful for his efforts and for the other staff at Colorado Retina. Thank you!"

—

Rodney
"Dr. Adam is absolutely the best doctor! He is professional and very educated, plus kind, and has a funny side to him. He will sit and explain your eye condition to you and never rushes you out the door. I have been going to him for almost 4 years now. I've seen him countless number of times and have had at least 5 surgeries with him. I can honestly say he cares about his patients and wants to help them. You are not just another patient walking through his door. He truly is a one-of-a-kind guy!"

—

L.B.
Read More