Geographic Atrophy
FDA Approves SYFOVRE™ as the First and Only Treatment for Geographic Atrophy (GA), a Leading Cause of Blindness.
"For the first time ever, we are celebrating the approval of a treatment for GA. This is a historic and hopeful day for all GA patients and their care partners, who have been waiting for a treatment for this relentless form of vision loss." - Jeff Todd, president and CEO, Prevent Blindness.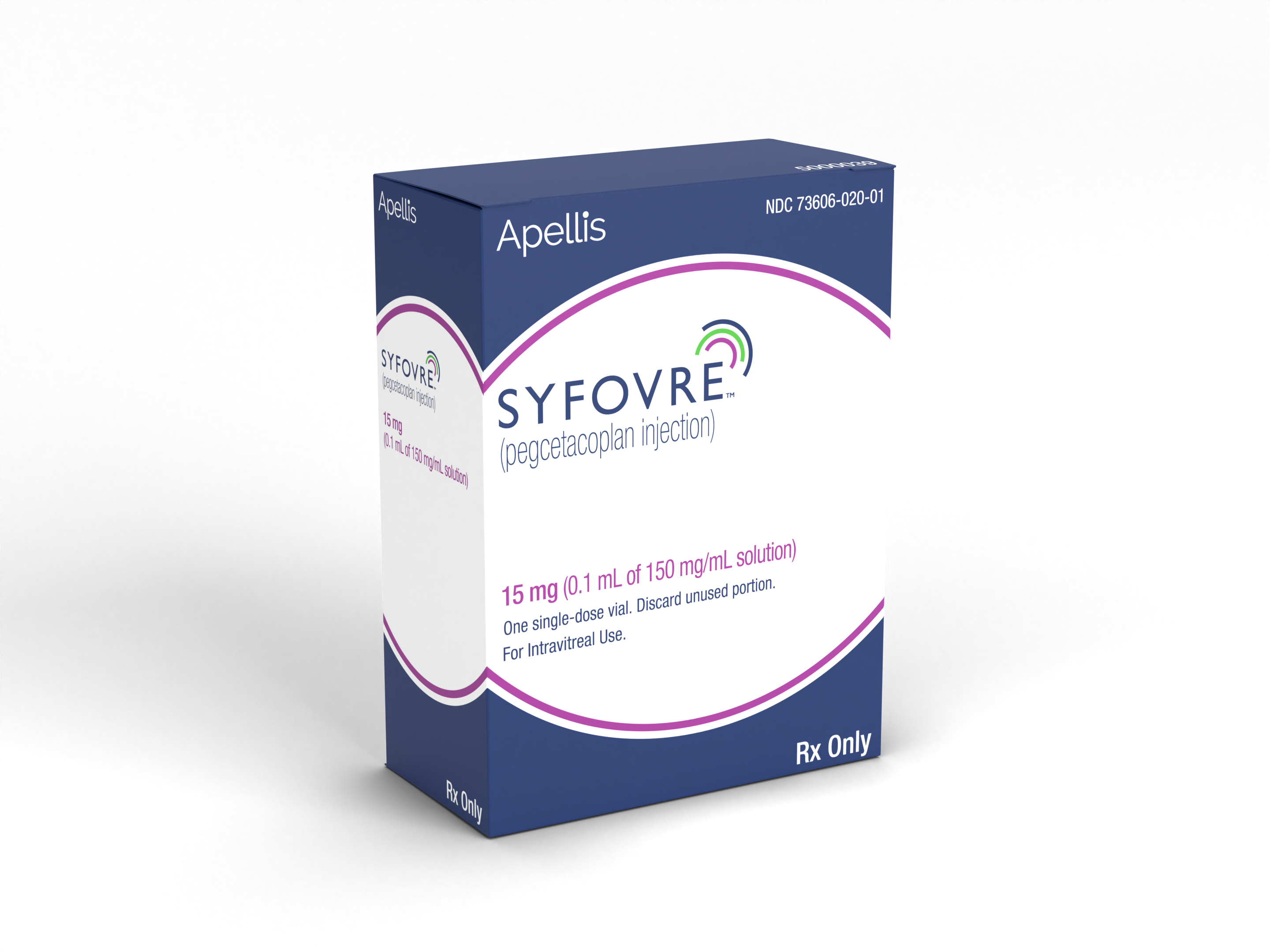 On February 17, 2023, the U.S. Food and Drug Administration announced the approval of the first ever treatment for the most severe form of dry age-related macular degeneration (AMD) known as Geographic Atrophy (GA). The new medication has the trade name of SYFOVRE™ and the generic name of pegcetacoplan™, developed by a global biopharmaceutical company called Apellis Pharmaceuticals.
SYFOVRE™ (pegcetacoplan™ injection) is the first and only approved therapy for geographic atrophy (GA). By targeting C3, SYFOVRE is designed to provide comprehensive control of the complement cascade, part of the body's immune system.
Colorado Retina Associates clinical research department and our physicians are proud to have participated in the clinical trial for the development of this novel medication, SYFOVRE. The phase II trial and the two phase III trials that led to the approval of SYFOVRE™ were known as the FILLY, OAKS & DERBY trials that involved more than 1,500 patients globally. CRA and our Retina Consultants of America sister practices from across the U.S. combined randomized more than 150 patients into those trials and we continue to manage patients who completed the OAKS and DERBY trials in the GALE long-term extension study. Our team and our patients contributed to a very real advancement in our ability to treat Geographic Atrophy!
Important Notes for Patients:
SYFOVRE is not a cure for GA. Patients will usually still experience disease progression.
In clinical trials, SYFOVRE slowed GA progression with increasing effects over time. Both monthly and every-other-month treatments of SYFOVRE reduced the rate of GA lesion growth over 24 months by 17%-22%.
2SYFOVRE is given via periodic intravitreal injections, with dosing every 25 to 60 days, depending on the clinical judgment of your treating retina doctor.
SYFOVRE should be available for many of our eligible patients with GA as soon as March 6, 2023.
Potential Adverse Reactions
The most common, yet rare, side effects of SYFOVRE treatment include the development of eye infections, including a severe inflammatory condition called endophthalmitis and the new development of wet age-related macular degeneration (AMD). Please call our office immediately if you experience severe eye pain, redness in the white of the eye, extreme sensitivity to bright light, decreased vision, or swelling of the eyelid. Endophthalmitis is a urgent medical emergency and can blind you if not treated quickly.
Financial Assistance
Colorado Retina and Apellis is committed to helping patients with treatment access and support. ApellisAssist® is a program designed to help SYFOVRE™ patients along their treatment journey by providing a system inclusive of insurance support, financial assistance for eligible patients, disease education, and ongoing product support. Call Apellis at 1-888-273-5547 for more information.
Follow this link to learn more about SYFOVRE™.