Asymptomatic and Early Hydroxychloroquine Retinal Toxicity noted on OCT
Asymptomatic and Early Hydroxychloroquine Retinal Toxicity noted on OCT
Betty Zhang, O.D. Retina Optometrist
Murtaza Adam, M.D. Retina Specialist
A 64-year-old female presented with a history of hydroxychloroquine (HCQ) use for 11 years for the treatment of rheumatoid arthritis (RA). The patient's daily dose was 300mg, and she denied history of liver and kidney disease, concurrent maculopathy, or tamoxifen use. The patient denied vision changes and the patient's macular exam was within normal limits. SD-OCT disclosed subtle disruption of the parafoveal ellipsoid zone in both eyes. Fundus autofluorescence showed trace hypo-autofluorescence surrounding the fovea. The patient was diagnosed with mild hydroxychloroquine toxicity and discontinuation of the medication was recommended. The patient's rheumatologist was contacted for alternative treatment recommendations and a 6-month follow-up was recommended to screen for progression following HCQ discontinuation.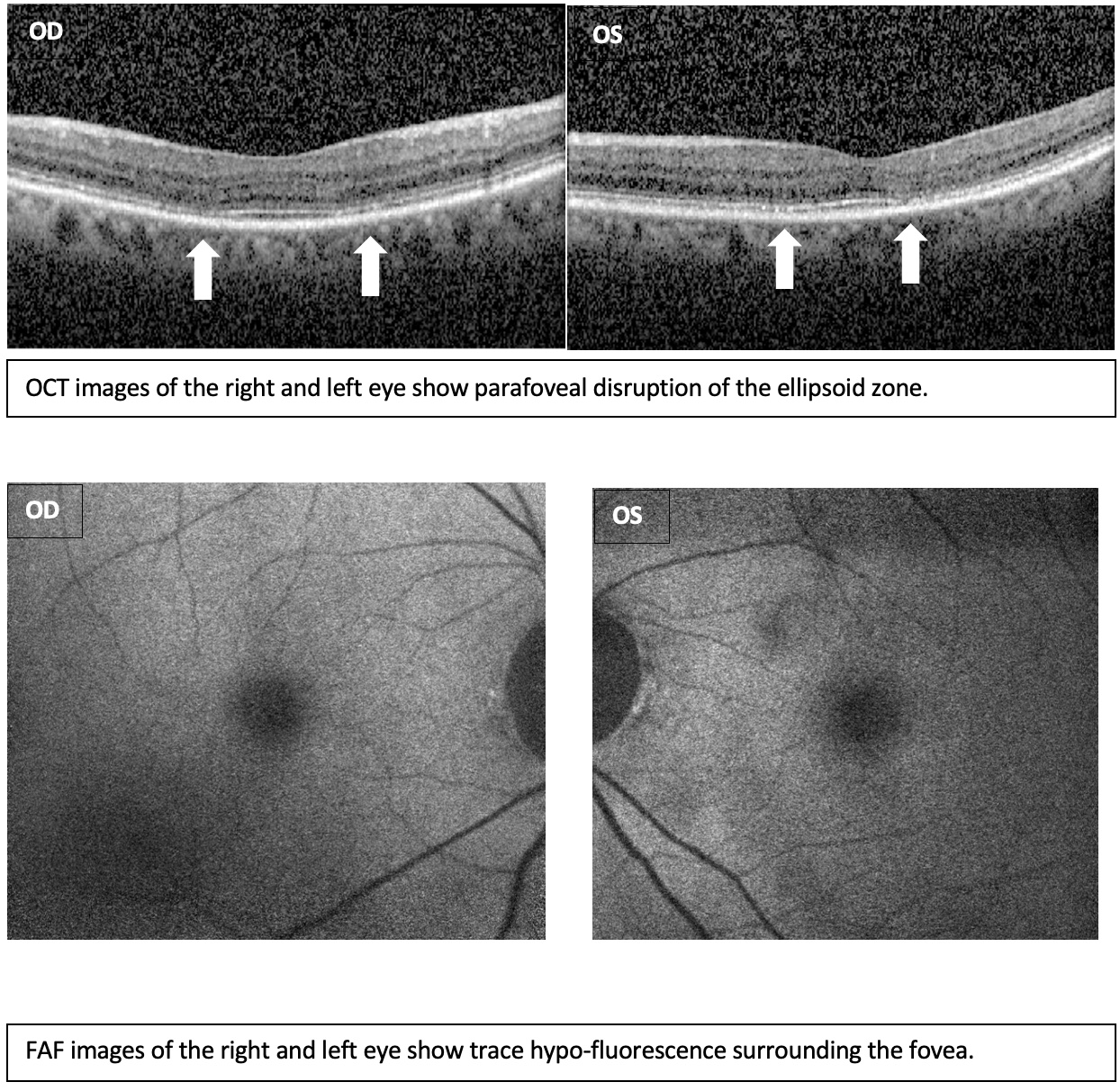 HCQ is used to treat autoimmune conditions and can cause several ocular side effects including intraepithelial keratic deposits, ciliary body dysfunction, lens opacities, and toxic maculopathy.1 Hydroxychloroquine binds to melanin in the RPE cells, ultimately leading to photoreceptor atrophy.1 Due to the long half-life of hydroxychloroquine, toxicity can continue to progress even after discontinuing the medication, making it even more imperative to diagnose toxicity at an early stage. Factors that increase risk of toxicity are duration of use, daily dose >5 mg/kg/day (calculated using actual weight), concurrent maculopathy, tamoxifen use, and liver/kidney disease. Incidence of toxicity has been found to be less than 1% within the first five years if no high-risk characteristics are present.1 Recommended retinal screenings include dilated fundus exam, OCT imaging, fundus autofluorescence, and 10-2 threshold visual field (white on white stimulus) at baseline, repeated annually after 5 years of medication use.2 Multifocal electroretinogram is potentially more sensitive to detecting early toxicity, but is not widely available and requires the calculation of "ring ratios".3 If the patient is high-risk, annual screening is recommended from the initial start date of HCQ use.2 Classic maculopathy shows visual field defects 5 degrees from the center, while Asian patients can show visual field defects 10 or more degrees from fixation. In patients of Asian descent, toxicity can present in the mid-periphery up to 50% of the time, requiring a wider-angle visual field (30-2 threshold).1, 2 OCT shows parafoveal thinning of the ellipsoid zone and outer nuclear layer, called the "flying saucer sign". In early stages, fundus autofluorescence shows a ring of hyper-autofluorescence that progresses to a ring of hypo-autofluorescence as the photoreceptors atrophy. Retinal exam shows normal findings or macular pigment irregularities at early stages and bullseye maculopathy at later stages. In patients with toxicity, it's important to discuss alternate rheumatologic treatment options with the patient's rheumatologist to prevent further retinal damage and irreversible vision loss.
References:
1. Stokkermans, Thomas J., et al. "Chloroquine and hydroxychloroquine toxicity." (2019).
2. Marmor, Michael F., et al. "Recommendations on screening for chloroquine and hydroxychloroquine retinopathy (2016 revision)." Ophthalmology 123.6 (2016): 1386-1394.
3. Adam MK, Covert DJ, Stepien KE, Han DP. Quantitative assessment of the 103-hexagon multifocal electroretinogram in detection of hydroxychloroquine retinal toxicity. Br J Ophthalmol. 2012 May;96(5):723-9.